Our Group
Chart of the CTE group of companies as at March 1, 2022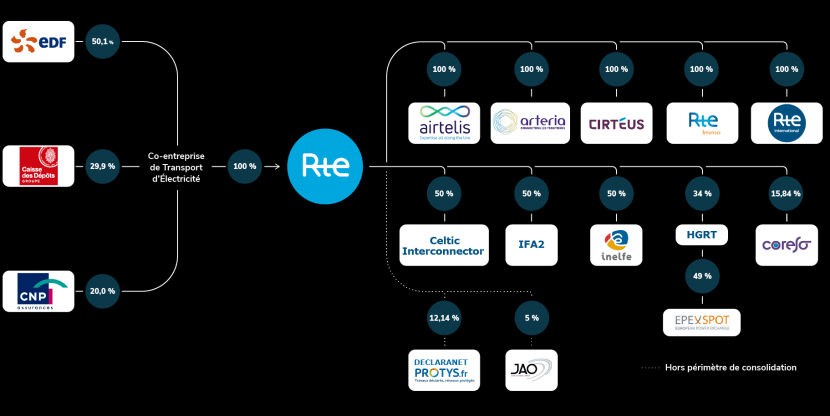 RTE Réseau de Transport d'Electricité
RTE Réseau de Transport d'Electricité is the operator of the French electrical power transmission network which it also owns, maintains and develops. As such, it principally performs the following three functions:
manages power flows: RTE Réseau de Transport d'Electricité is responsible for the supply/demand balance and makes adjustments, manages electricity flows and manages access rights to international interconnections, in collaboration with neighbouring network operators. It mobilizes reserves and compensates for losses. It makes the necessary accounting adjustments and resolves imbalances;
manages the transmission infrastructure: RTE Réseau de Transport d'Electricité operates and maintains the public transmission network and is responsible for its development, for minimizing costs for the community and for ensuring the safety of the system, people and property; and
guarantees access to the transmission network: RTE Réseau de Transport d'Electricité enters into contracts with transmission network users on the basis of network access tariffs and in accordance with rules of non‑discrimination.
In addition, Article L111-46 of the French Energy Code authorises RTE Réseau de Transport d'Electricité to participate in the identification and the analysis of any action proposed to be taken to control electricity supply, to the extent that such action may encourage a balance of supply and / or demand.
Shareholders
CTE is owned as follows:
29,9%
owned by Caisse des Dépôts
et consignations
20%
owned by CNP Assurances
Below is a diagram describing the shareholding of CTE: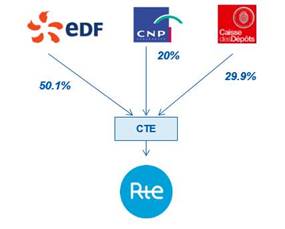 About EDF
The EDF Group is an integrated electricity supplier, active in all business lines: generation, transmission, distribution, energy supply and trading, and energy services. The EDF Group has developed a diversified production mix based on nuclear energy, hydraulic energy, new renewable energies and thermal energy. The Group is involved in supplying energy and services to around 38.5 million customer sites worldwide. In 2021, it had consolidated sales of €84.5 billion. EDF is a company listed on the Paris Stock Exchange.
About Caisse des Dépôts et Consignations
Caisse des Dépôts et Consignations is a special public institution (établissement spécial) created by a French law dated 28 April 1816 and which is governed by articles L. 518-2 to L. 518-24 of the French Code monétaire et financier. Caisse des Dépôts et Consignations performs public-interest missions in support of public policies performed by France's central government, regional and local public entities. It is a significant administrator of French savings deposits and retirement savings funds and of private funds that are protected under French law. It is also the main institution financing low-income housing in France and urban development as well as being an important long-term institutional investor. It manages substantial portfolios of shares in listed companies, private equity and real estate assets.
About CNP Assurances
CNP Assurances is a French personal insurer with consolidated revenues of €31.7 billion in 2021. The CNP Assurances Group is also present in Europe and Latin America, with a strong presence in Brazil. It has nearly 36 million personal protection policyholders worldwide and 12 million savings and retirement policyholders. The CNP Assurances Group designs and manages life insurance, pension, personal protection and protection (loan and health coverage) policies. CNP Assurances has been listed on the Paris stock exchange since October 1998 (first market) and has a stable shareholder base, as evidenced by the signature of a pact between its main shareholders (Caisse des Dépôts, La Banque Postale, Groupe BPCE and the French State).
Composition of the Board of Directors
The composition of the Board of Directors of the company as of May 31, 2022 is as follows
Mr. Pierre Benoist d'Anthenay, Chairman and Chief Executive Officer
Mr. Christophe Carval, Director
Mr. Pierre Casano, Director
Ms. Virginie Chapron du Jeu, Director
Ms. Corinne Delaye, Director
Ms. Elise Stoffaës, Director
Ms. Virginie Tant Ducable, Director
Ms. Louise Vilain, Director